Who We Are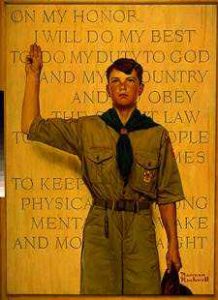 At first glance, Troop 208 may look "different" from other troops.  With one more look however, the picture becomes clearer.  Troop 208 is constantly climbing the mountain toward becoming a
unit that is completely based on the principles that have kept the Boy Scouts of America program alive and well for 100 years.  The way we see it, if our Troop looks different because we do the things that the BSA wants us to do, then so be it.  This fact can make some folks nervous.  We are a boy-led troop, with assistance and guidance from the Scoutmaster and his registered adult leaders.  For those unfamiliar with the concept, our activities and methods can at times look somewhat chaotic, since the events in our meetings are literally run by the Scouts.
There are times when everything planned doesn't get done, or when what actually happens doesn't resemble what was planned.  Sometimes a meeting goes very well and sometimes, not so much. After each meeting the Patrol Leaders Council (the youth core leadership group) recaps the highs and lows of the meeting with the Scoutmaster.  By doing this, they can hopefully learn from their mistakes and do better in future meetings.  To the casual observer our meetings may seem like chaos and to some extent they are, but there is always control and guidance in place, provided by the Scoutmaster and the rest of our registered adult leaders.  This method helps to develop communication skills, presentation skills, planning, self confidence, and group leadership.  We realize that they are kids, and that "the road" can look pretty rough at times.
In order to smooth out some of the rough spots in our boy-led activities, we stress an active training program.  Training the boys and having them use their training whenever possible are two of the main keys to having a successful program.
The BSA's basic training approach is called "EDGE":
Explain to the Scouts what needs to be done.
Demonstrate for them how to do it.
Guide them on how to achieve it.
Enable them with the means to do so.
We teach these concepts at Troop leadership training at least twice a year.  We believe in promoting the very basic outdoor skills that every scout should know: fire building, cooking, pioneering, first aid, and camping.  With these basic skills a young man can accomplish everything from assisting others in a time of emergency to just enjoying himself. Should anything that you observe during the meeting generate questions in your mind, our Scoutmaster and his staff will be happy to answer them.
Gear
Our Troop has a basic approach to camping and camping gear.  We provide Alps Taurus 2 tents for the boys; these are two-man backpack style tents.  The boys are not allowed to keep anything other than sleep items in the tent (sleeping bag, pad, blanket, sleeping clothes, and pillow).  All other personal items are stowed on the ground, in their pack, or in a tree.  For stoves and cooking equipment, we use a Primus style backpack stove that has multi-fuel capability.  For pots and pans, we use the standard BSA Cook Kit. We have removed items deemed not necessary for a backpack or light High Adventure type event, with the exception of Dutch ovens.  This includes the exclusion of charcoal, unless required by campsite regulations.  We do not use chuck boxes, folding tables, or a lot of stuff you would find with troops that use the "car camping" style.  We have made a choice to do things a bit different than most.  While this does make it a bit more difficult to get used to, it does prepare a boy for the later part of his scouting career when the High Adventure events may require certain proficiencies to make the trip successful.  We also feel it makes us more mobile and flexible to the events that may be planned by the boys
Service
Finally, in the best spirit of the BSA, we also encourage every boy to perform acts of service whenever, wherever, and however he can selflessly.  This ideal is fostered in leadership training and in service projects throughout the year.